SW Adult Leader Training Hub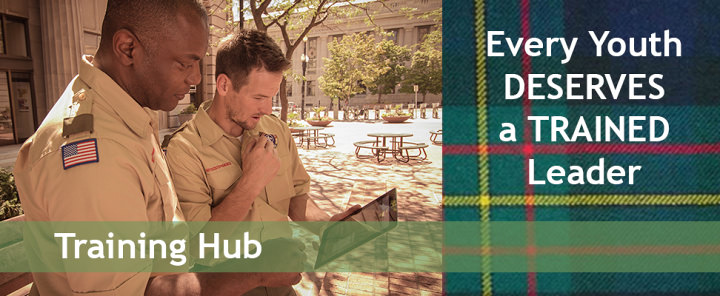 The Boy Scouts of America (BSA) provides the nation's foremost youth program of character development and values-based leadership training. Scouting is a youth-led, youth-run program, beginning even in Cub Scouts with Denners and Webelos Patrol Leaders, but the youth must be trained to be leaders. Adult role models in Scouting provide an ideal learning experience for all youth. The advantages of Scouting are not limited to youth. Adults also develop leadership and physical skills with every training experience.
The Boy Scouts of America training curriculums can be viewed on your BSA Learn Center and My.Scouting.org web pages.
Instructor Resources: BSA Training for Adults
---
Local and online training opportunities for all Scout Leaders:
Cub Scout Adult Leader Training available two ways:
Den Leaders only- In person classes are scheduled in various locations around the Sweetwater District in the Fall to supplement our school roundup season.
All Cub Leaders- In the BSA Learn Center- Learn at your own pace. A series of modules from start to finish. In-person classes are frequently scheduled in conjunction with Fall Den Leader trainings, and Fall Sweetwater events.
Cub Scout Basic Adult Leader Outdoor Orientation (BALOO)- Minimum ONE leader must have this training for a Pack to take their scouts camping (...and that leader MUST attend the campout.) Recommended for ALL Cub Scout leaders working directly with Scouts.
BALOO is divided into two parts. Part One is online at BSA Learn Center, and is a prerequisite for enrolling in the Hands-On weekend. The hands-on BALOO weekend is at Scoutland and we have either a fall or a spring class available.
Scoutmaster and Asst. Scoutmaster Position Specific Training available 2 ways:
BSA Learn Center- Learn at your own pace. A series of modules from start to finish.
Live In person training during the 2024 Sweetwater Advance-A-Rama January 27th 2024. No preregistration required.
Introduction to Outdoor Leader Skills- For SM & ASM. This in person training takes place at Scoutland During Spring Camporee.
---
Sweetwater Has recorded a 3 video series on the Eagle Scout Service Project process. This video series is appropriate for Scouts, Parents, and Adult Leaders working with Life Scouts.
ESSP Tutorial Part 1- The Proposal
---
Scout Safely!
The Guide to Safe Scouting and the Sweet 16 of BSA Safety are your go-to documents to keep it safe and keep it fun. Click the links to download and view them now.
---
CubCast and ScoutCast
Whether you have a new den, pack, or troop, or maybe you're a seasoned Scouter looking for new best practices, the Scouting magazine podcasts have something for every Scouting leader, parent, and even professionals.
---
New District Committee Basic Training
District committee training has been taught the same way for many years with a very dated course. By leveraging the BSA Learn Center, we can give the district committee a learning environment that provides them the content they need when they need it, and we can leverage professional training for consistency in district training.
---
Facebook
Are you on Facebook? If so, have you found the Sweetwater District NEGA, BSA page or the BSA Volunteer Training Team page? Encourage your Facebook friends to join us. You can find the page by logging into your Facebook account and putting @swscouts or @BSAtrainingteam in the search line.
---
More ways to stay connected with training and get the information you need to put on a quality Scouting program:
1) Click here to go to the NEGA Council Training page with more information on training and timelines for completion.
2) Attend Sweetwater District Adult Leader Roundtable, which is held monthly on the second Thursday at 7:00 PM (except June and July) . Go to our Commissioners & Roundtable page for more info.
3) View previous Roundtables you missed, available on our YouTube channel. Go to our Commissioners and Roundtable page for links.
4) Sign up for the Sweetwater District Newsletter, published monthly with news of upcoming events, training, and information relevant to Pack and Troop leaders and parents. Click the link to sign up or email: sweetwater-district-newsletter+subscribe@googlegroups.com
5) Go to the "District Calendar" to find training and events planned by Sweewater District to enhance your unit's annual calendar.
---