Day Camp/Twilight Camp/STEM Camp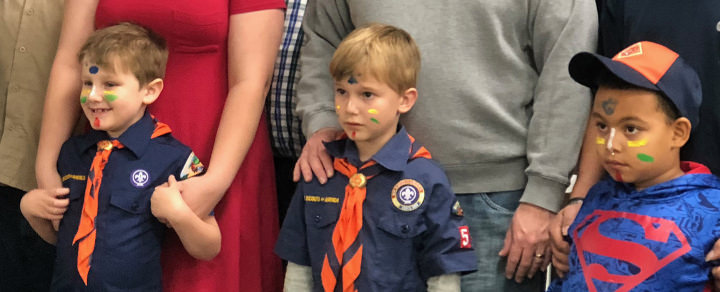 Here's what we are doing to make Day Camp Safe!
Based on Governor Kemp's 5/28/2020 executive order we will be implementing the following safety procedures for the 2020 Day Camp season:
Screening campers at drop off

Contactless check in/check out, parents will remain in their cars during the drop off period.
All campers will be checked as they come into camp for Covid-19 symptoms including: temperature greater than 100.4 degrees, cough, shortness of breath, difficulty breathing, other respiratory symptoms, or at least two of the following symptoms: chills, repeated shaking with chills, muscle pain, headache, sore throat, or new loss of taste or smell.
If any scout comes in with any of the above symptoms, they will be asked to go home.
Any workers who display the above symptoms will be asked to stay home or leave camp if they develop during the day.

Social Distancing

We will be keeping our scouts in small groups. They will work in their den and only their den over the course of the week.
There will be no large group gatherings at camp.
The same staff will work with the scouts throughout the day.
Each scout will have their own personal space to leave belongings that they bring to camp.

Sanitizing

Equipment between groups and each program area will be sanitized after each group leaves their respective activity.
There will be no sharing of materials between scouts.
Hand sanitizer will be available at all camps and handwashing will be encouraged.

Staff will go through a Covid training prior to camp beginning.
We will be strictly enforcing all local, state and CDC guidelines.
2021 Dates Coming February 2021. Keep checking back with us!
DAY CAMP
Eighteen Cub Scout Day Camps occur during the summer throughout Northeast Georgia during May, June and July. Day Camp is a week-long camp for Cub Scouts that is fun and helps them advance within their rank of Cub Scouts. Activities may include bow and arrows, BB guns, nature, hiking, skits, arts, crafts, songs, etc.
Hours are from 9:00 AM to 3:00 PM
TWILIGHT CAMP
Seven Twilight Camps occur in the summer during evening hours. Twilight camp is a week-long camp for Cub Scouts that is fun and helps them advance within their rank of Cub Scouts. Activities may include bow and arrows, BB guns, nature, hiking, skits, arts, crafts, songs, etc.
Hours are from 5:00 PM to 9:00 PM
STEM Camp
Four STEM camps occur durring the summer. STEM camps range from 3 to 5 days.STEM Camp focuses on Science based scouting activities. They still have the same theme as the Day and Twilight Camps but have more science, technology, engineering and math focus.
If you have a Tiger Cub Scout entering the 1st grade you MUST have a parent/adult attend with them.
Day Camp Dates and Location are subject to change. If the Day Camp has TBD in the Date or Location we are working with the District and will update the Dates and Location as soon as we can. Please be patient with us during this time.
Apalachee District
Dates
Camp
Location
July 20 - 24
Dacula Day Camp
Hamilton Mill United Methodist Church, Dacula
Cancelled Buford Day Camp
Cancelled Lawrenceville Day Camp

Cancelled

Lawrenceville Day STEM Camp
Chattahoochee District
Dates
Camp
Location
Cancelled Gainesville Day Camp
Cancelled Jefferson Twilight Camp

Cancelled

Winder Twilight Camp
June 15-19
South Hall Day Camp
Sterling on the Lake Clubhouse, Flowery Branch
Cherokee District
Dates
Camp
Location
July 6-10
Watkinsville Day Camp
Harris Shoals Parks, Watkinsville
July 20-24
Athens Day Camp
Pittard Park, Winterville
July

Cancelled

Franklin/Hart Twilight Camp
Currahee District
| Date | Camp | Location |
| --- | --- | --- |
| | Cancelled Cleveland Day Camp | |
| | Cancelled Toccoa Twilight Camp | |
| June 15-19 | Homer/Cornelia STEM Camp | Uchee Lodge, Homer |
| | Cancelled Habersham Twilight Camp | |
| | Cancelled Rabun Twilight Camp | |
Etowah District
Mountain District
Dates
Camp
Location
June 1-5

Cancelled

- Gilmer/Fannin Twilight Camp
Sweetwater District
WHO MAY PARTICIPATE?
To attend Day Camp, a boy or a girl must be entering first through fifth grade in the fall of 2020. A registered Cub Scout pays only the Day/Twilight Camp fee. A boy or girl who is not a Cub Scout may participate, however, they must enroll in Cub Scouts and pay an additional fee of $45 on top of the Day/Twilight Camp fee. They will be placed in a Pack in or near their school.
HOW MUCH DOES IT COST TO ATTEND CAMP?
$95.00 Early Registration fee. Register Early and SAVE!! Register by May 29, 2020.
$115.00 Base/ Regular Registration fee (on and after May 30th)
$125.00 Late/ On site Registration fee. 7 days prior to your day camp starting. You are not guaranteed a shirt.
$45.00 extra in addition to Day/Twilight Camp fee (for Non-Scouters)
Camp fee includes: a camp T-shirt, patch, craft, and program supplies.
HOW DO I REGISTER FOR CAMP?
Choose the District Camp you wish to attend – you may attend more than one
Click on the Red Button on the Day/Twilight/STEM Camp tables above.
Register online though our Tentaroo System! You will have to create a username and password if you don't already have one.
Follow the step-by-step registeration. You can register your Scout, Non Scout, Adult Volunteers, and also order extra T-Shirts all at the same time.
Check out once you're done to summit your registration. You are not registered until you check out.
If you have any registration questions please call the Jefferson Service Center and ask for Heather Sisk in the Camping Department 706-693-2446
Camps have limited space and fill quickly. Camp is open to all boys and girls regardless of race, creed, color, or national origin. No Scout will be denied the opportunity to attend Camp because of a physical or mental disability as long as his/her doctor has given him/her permission to attend. Your Camp Director must know about any special requirements before camp starts so that the staff can be prepared to provide the best possible experience.
WHAT SHOULD I BRING TO CAMP?
Hat
Lightweight jacket or rain gear, if necessary
Water bottle/water
Non-perishable sack lunch and drink each day. (Not required for Twilight campers)
For special activities, Scouts may be asked to bring a specific item from home.
Any required medication must be checked in with the Health Office upon arrival at camp. All medications must be in the original container, marked clearly with the patient's name and dosage and be noted on the health form.
Completed Health and Medical Form #680-001 Parts A and B. Attach a copy of your insurance card (both front and back). Please Bring To Camp your Medical Form Part A & B
PUT YOUR NAME ON EVERYTHING THAT COMES TO CAMP – INCLUDING LUNCH!
WHAT SHOULD I NOT BRING TO CAMP?
Personal electronic equipment (iPods, tablets, cell phones, personal electronic devices, etc.)
Valuable items such as jewelry
Pocket knives
Glass items
Non-prescription drugs
WHAT SHOULD I WEAR TO CAMP EVERY DAY?
Camp T-shirt (campers will be given Camp t-shirt on the first day/evening of camp). Be sure to order extra t-shirts!
Shorts
Socks
Closed-toe shoes (no sandals, Crocs, or flip flops)
Sunscreen
Insect Repellent
WILL I WORK ON MY CUB SCOUT RANK?
Most Camp programs are based on a Cub Scout Rank. Many of the activities that are fun provide opportunities to qualify toward rank advancement. These give campers a head start for advancement in their handbooks for their upcoming rank. The camp program focuses on age-appropriate activities, so it is very important that we know what grade the Scout will be entering in the fall of 2020. While at Camp, Scouts who are:
Entering 1st Grade will work on Tiger (Adult must attend)
Entering 2nd Grade will work on Wolf (Can attend without an adult)
Entering 3rd Grade will work on Bear (Can attend without an adult)
Entering 4th Grade will work on Webelos (Can attend without an adult)
Entering 5th Grade will work on Arrow of Light (Can attend without an adult)
HEALTH AND SAFETY
Complete the Health and Medical form #680-001 parts A and B. Bring it with you on the first day of camp along with a copy of your insurance card (both front and back).
WHAT HAPPENS IF I CHANGE MY MIND ABOUT COMING TO CAMP?
CAMP FEES ARE TRANSFERABLE-BUT NOT REFUNDABLE.
If you have to cancel or change your mind a credit can be applied upon approval to your account. That credit can be used towards your next scouting event before 12/31/20. If you are unable to make it and need to cancel please email your District Executive or Heather Sisk in the camping department. Youth asked to leave camp for disciplinary reasons will not receive a refund.
CAN I GET AN EXTRA T-SHIRT?
Extra t-shirts may be ordered with registration. T-shirts are $10.00 each for the following sizes: Youth Small, Youth Medium, and Youth Large, Adult Small, Adult Medium, Adult Large, and Adult Extra Large. T-shirts are $12.00 each for Adult XXL and Adult XXXL. Please order t-shirts at least two weeks prior to the start of your camp. Extra shirts may not be available during camp for purchase or exchange.
I'M A PARENT - HOW CAN I HELP? If you would like to volunteer at one of our Day, Stem, and/or Twilight Camps please see more information on our Day Camp Staff page. Thank you for your help!
Packs should send at least one adult chaperone for every five Cub Scouts who attend Camp.
I STILL HAVE QUESTIONS. HOW CAN I GET THEM ANSWERED?
You may call one of the Council Service Centers or contact your District Executive. For registration questions call the Camping Department at the Jefferson Service Center, 706-693-2446.
| File Name | Description | |
| --- | --- | --- |
| Medical Form A&B | | Download |