Scout Shop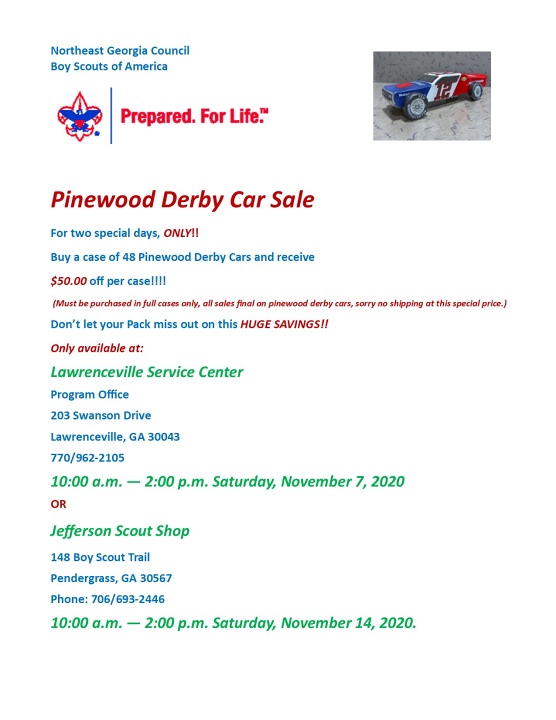 Northeast GA Council has 2 great locations for all your Scouting needs!
Scout Shop News
The Lawrenceville Scout Shop re-opens on Wednesday, May 13th!
Please be aware of the changes below when shopping at the store. These changes will remain in place until further notice.
Store Hours
Monday-Friday: 10am – 6:00pm
Saturday: 10am – 4pm
Sunday: CLOSED
Reduced Occupancy
The Scout Shop will have a limit of 6 people in the store at one time.
Dressing Room Use
The dressing room will not be available for use when visiting the store.
Advancement Orders
All advancement needs will be pulled by a member of the Scout Shop team. Please email any advancement requests with your advancement report to lawrencevillescoutshop@scouting.org. Please include your name and phone number with any additional needs listed, and scout shop staff will call you when the order is ready.
Sewing
In order to protect the Scout Shop Staff, all sewing needs brought to the scout shop will take 5-7 business days to complete.
If you are purchasing all items from the scout shop, we will be able to complete any sewing on site while you wait.
Curbside Pick up
The Scout shop is providing Curbside pick-up!
Please call 770-962-2105 or email lawrencevillescoutshop@scouting.org your requests. We will pull your order and contact you to let you know when it's ready to pick up.
Once you arrive, just call the phone number above and a staff member will bring your order out to your car!
The above only applies to Lawrenceville. Jefferson Scout Shop is still open normal hours of Monday - Friday 9am - 5:30pm, Saturday 10am - 2pm.
Lawrenceville Service Center

Jefferson Service Center

203 Swanson Drive

Lawrenceville, GA 30043

770-962-2105

148 Boy Scout Trail

Pendergrass, GA 30549

706-693-2446

Hours
Hours

Monday - Friday 10am - 6:00pm

Saturday 10am - 4pm

Program Office Hours:

Monday - Friday 9am - 5:30pm

Monday - Friday 9am - 5:30pm

Saturday 10am - 2pm
| File Name | Description | |
| --- | --- | --- |
| Pinewood Derby Sale flyer | | Download |