Ranger Camp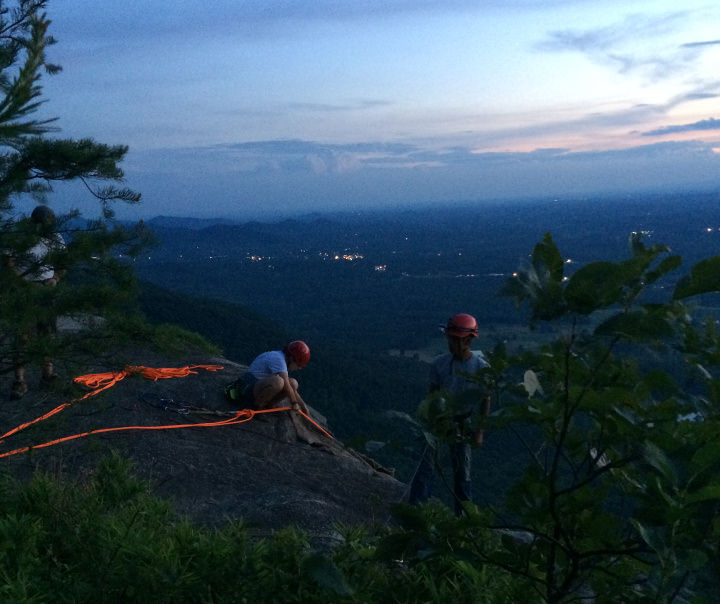 Ranger Camp Dates - Please continue to check this space for updates!
Sunday Check-in is from 7:30AM - 8:30AM
Ranger Camp starts promptly at 9 AM.
The Northeast Georgia Council has a long tradition of working with the U.S. Army Rangers at Camp Frank D Merrill near Dahlonega, Georgia. Ranger Camp is conducted by the Northeast Georgia Council utilizing the expertise of both the Ranger Instructors ( RI's) and our own High Adventure Climbing Instructor volunteers to provide a unique week of Challenge, Adventure, and Success as they negotiate much of what Ranger Candidates experience in the Mountain Phase of their Training.
The first part of the week is dedicated to training and teambuilding so that the participants can meet the challenge successfully on top of Mt. Yonah as they climb and rappel the 200ft face on Thursday and Friday. Participation for Ranger Camp is open to Youth 14 and older, Scouts, Venturers and Explorers (male and female), and adults, space permitting.
The program is designed so that an individual youth can attend without adult supervision or without their entire troop, crew, or post. Ranger camp is a great program for youth who have attended Camp Rainey Mountain several times.
Medical Screening / Liability Release
All participants must complete and sign a Medical Screening/Liability Release
Medical Information for Youth & Adult High Adventure Participants

Pricing and Registration
The Ranger Camp begins with check in on Sunday though graduation on Friday. Registration is first come first serve. You may pay a $75.00 Registration fee (non-refundable) at Registration to reserve your spot and price. Full payment is due no later than 60 days from the start of camp.
**Included with Registration is 3 "Olive Drab" Work Shirts which are worn daily, 1 Ranger Camp Program Shirt, and 1 Patch! You are welcome to purchase extra shirts and patches along with a Ranger Camp Hat.**
Please fill out the Registration form . If you choose to fill out the Registration form please email it to Heather Sisk (Heather.Sisk@scouting.org) in the Camping Department. You may also fax the form to 706-693-4849. Payments can also be mailed to the Northeast Georgia Council, BSA at PO Box 399, Jefferson, GA 30549.