Camp Rainey Mountain Care Packages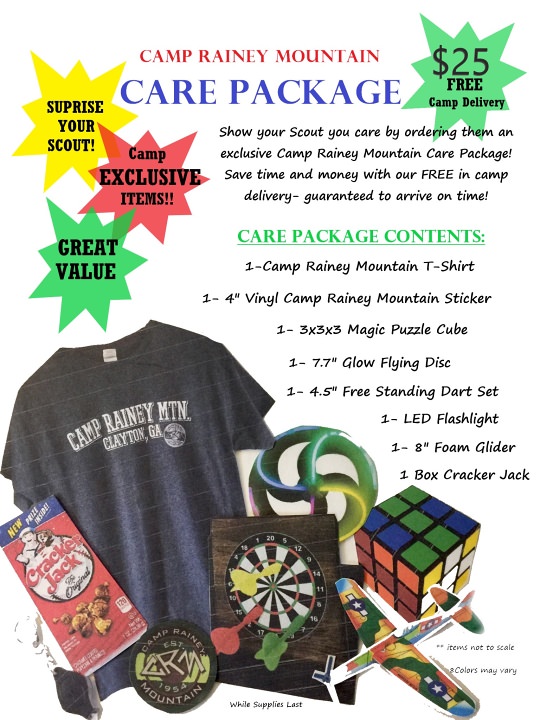 Show your Scout you care by ordering them an exclusivce Camp Rainey Mountain Care Package! Care Packages are available while supplies last. All Sales Final! No substitutions on any products.Care Packages must be ordered by Wednesday of the week your Unit will be attending camp. Your Scouts Care Package will be delivered to you Unit's mailbox inside the Admin building. If you would like to have a Care Package mailied to an address outside of Camp delivery there is an extra fee of $8.75 for shipping.
Care Package Items Detailed Description
Camp Rainey Mountain T-Shirt: A 50% Cotton-50% Polyester Mens Gildan T-Shirt featuring a white academic style weathered font which reads Camp Rainey Mtn. Clayton, GA and an all white weathered circular Camp Rainey Mountain logo. Color of shirt will vary based on size and availability.
Camp Rainey Mountain Sticker: This 4" self adhesive high quality indoor/outdoor vinyl sticker depicts in full color our circular Camp Rainey Mountain logo.
Magic Cube Puzzle: A 3"x3"x3" Puzzle Cube game. Twist, turn and rotate, the magic cube puzzle has many combinations, but only one solution! This game is a fun, challenging puzzle for kids of all ages.
Keychain Flashlight: Tiny and Lightweight: Measures 1.6" x 0.9" and weighs 0.32 ounces. Easy to attach with a convenient quick release ring. This Ultra-Bright LED, Unbreakable flashlight offers 12 lumens brightness and 100,000 hours LED life. Visible over one mile. Great for Scouts to hook on a belt loop or keep in their pocket.
Tabletop Dart Set: Each set comes with three magnetic darts and one folding magnetic dartboard that sits up from its base and folds back down for easy storage. Measuring 4.25x4.75x1.0 in. this dart set is sure to provide fun in the tent and the campsite.
The Original Cracker Jack: 1oz. Box of delicious caramel-coated popcorn and peanuts. Each box contains a surprise inside.
Foam Glider Plane: 8" glider plane made from lightweight foam material that really soars! Easily assembled for hours of high flying fun!
Cutt of Dates to Order:
Week 1 - June 9, 2021
Week 2 - June 16, 2021
Week 3 - June 23, 2021
Week 4 - June 30, 2021
Week 5 - July 7, 2021
Week 6 - July 14, 2021
Week 7 - July 21, 2021
If you have any questions please email the Camp Rainey Mountain Trading Post at tradingpostcrm@gmail.com
Please fill out the form below to place your order while supplies last!
| File Name | Description | |
| --- | --- | --- |
| Rainey Mountain Care Packages Fyler | | Download |