One Time Only Uniform Sale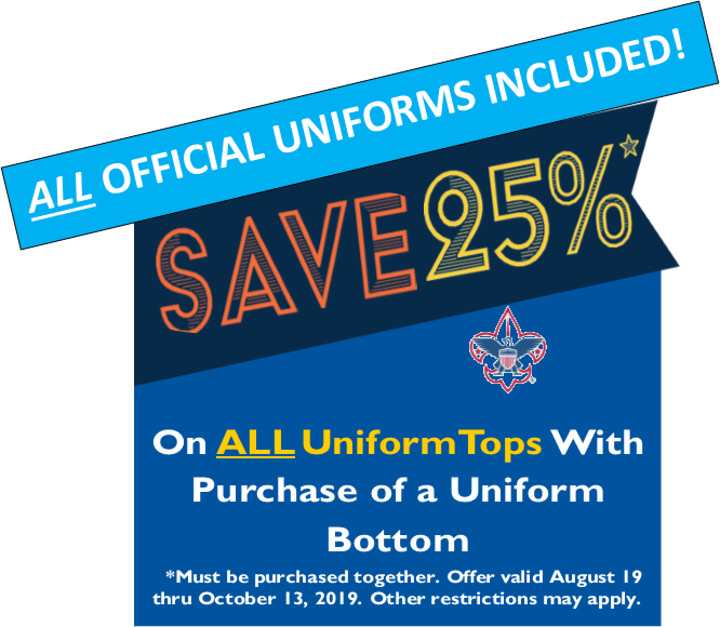 It's that time of year again - NEGA Council is offering a sale on Uniform Tops & Bottoms! This is in preparation for all the Fall Roundups getting ready to happen.
We are also offering extended hours at both Northeast GA Scout Shop Locations!
Jefferson Service Center
148 Boy Scout Trail,
Pendergrass GA 30549
(706) 693-2446
Email orders – jeffersonscoutshop@gmail.com
Monday – Friday 9:00am – 5:30pm
Saturday 10am-2pm
Extended Saturday Hours Aug 17th – Oct 19th
9:00am – 2:00pm
or
Lawrenceville Service Center
203 Swanson Drive,
Lawrenceville GA 30043
(770) 962-2105
Monday – Friday 9:00am – 6:00pm
Saturday 10:00am – 4:00pm
Extended Hours August 12 – October 19, 2019
Monday – Friday 9:00am – 7:00pm
Saturday 9:00am – 5:00pm
Sunday 1:00pm – 5:00pm
Click here to print out as a handy flyer to give to your NEW & RETURNING Scouts AND Leaders!