Once a Year Uniform Sale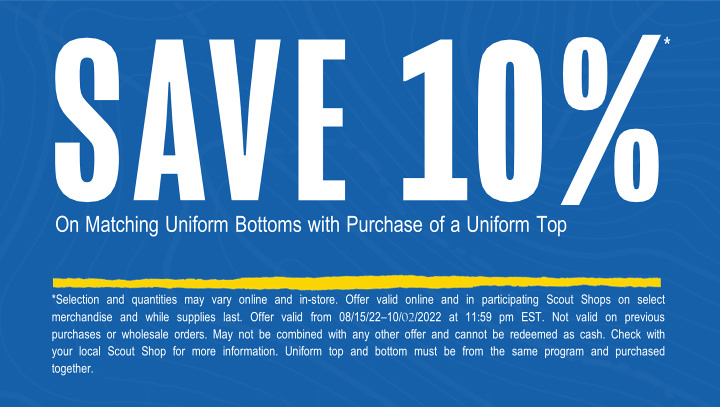 It's that time of year again - NEGA Council is offering a sale on Uniform Tops & Bottoms! This is in preparation for all the Fall Roundups getting ready to happen.
Save 10% off on Matching Uniform Bottoms with Purchase of a Uniform Top!
Every scout wants a Cub Scout Uniform. Your local Scout Shop stocks a full line of scout uniforms, camping gear, and other scout items. Any item purchased at your local Scout Shops supports and helps pay for Scouting in your area!
Sewing Services and Pre-Sewn Shirts Availible for Your Convenience. Ask a sales associate for details.
We are also offering extended hours at both Northeast GA Scout Shop Locations! See hours below!
Jefferson Service Center
148 Boy Scout Trail,
Pendergrass GA 30549
(706) 693-2446
Email orders – jeffersonscoutshop@gmail.com
Monday, Wednesday, Friday 9:00am – 5:30pm
Tuesday and Thursday 9:00am - 6:00pm
Saturday 10:00am - 2:00pm
or
Lawrenceville Service Center
203 Swanson Drive,
Lawrenceville GA 30043
(770) 962-2105
Monday – Friday 9:00am – 6:00pm
Saturday 10:00am – 4:00pm
Extended Hours August 12 – October 2, 2022
Monday – Friday 9:00am – 6:00pm
Saturday: 10:00am – 5:00pm
Sunday: 1:00pm – 5:00pm
Click here to print out as a handy flyer to give to your NEW & RETURNING Scouts AND Leaders!
| File Name | Description | |
| --- | --- | --- |
| Scout Shop Uniform Sale Flyer | | Download |