Scoutland Cub Summer Camp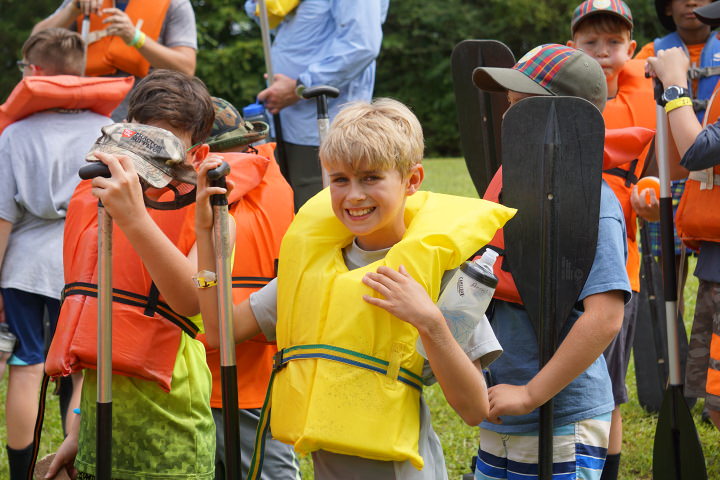 Formerly known as Scoutland Adventure Camp!
Attention All Campers unfortunately we have decided to cancel Cub Summer Camp this year and we look foward to seeing everyone in 2021!
| Sessions | Start Date/Time | End Date/Time |
| --- | --- | --- |
| 1- Cancelled | July 5, 2020 @ 2:00 pm | July 8, 2020 @ 9:00 am |
| 2- Cancelled | July 8, 2020 @ 2:00 pm | July 11, 2020 @ 9:00 am |
| 3 - Cancelled | July 12, 2020 @ 2:00 pm | July 15, 2020 @ 9:00 am |
| 4 - Cancelled | July 15, 2020 @ 2:00 pm | July 18, 2020 @ 9:00 am |
Cub Summer Camp is a 4-day, 3-night camp located on Lake Lanier, near Gainesville, GA. Meals are served in an air-conditioned dining hall. The camp maintains a full-time health facility and provides a certified aquatics instructor, trained shooting sports personnel, as well as a full-time qualified staff. Cub Scouts who will be entering the first through fifth grades in the fall of 2020 can attend..
Cubland Summer Camp is for Scouts entering first, second, or third grade in the fall of 2020. Scouts can swim, hike, learn handicrafts, and much more. Parents will accompany Scouts to all activities.
Lanier Canoe Base
Adventurers are Cub Scouts entering fourth grade in the Fall of 2020. They receive a special introduction to Scouts, BSA and will participate in eight adventures. Parents will accompany Scouts to all activities.
ADVENTURERS ACTIVITIES
Adventures In Science – Be a Mad Scientist and participate in amazing experiments!

Aquanaut – Swimming skills are important! Enjoy the dock and swimming area at Lake Lanier! Be prepared to take a Swim Test. Still learning to swim? In this session, we offer beginner swimming instruction.
Archery – Learn the techniques and skills needed to hit the mark! Trained instructors teach archery.
Aware & Care – Participate in activities that develop an awareness of individuals with disabilities.
BB Shooting –Shoot BB Guns on the range built just for Cub Scouts! Trained instructors teach this Adventure.
Build It – Tools are fun & making things can be great! Learn the proper use of tools and leave with an item you make.
Cast Away – An Adventure with fire building skills, tent pitching, and the use of knots in camp. Cook a meal over a campfire.
Earth Rocks – This program Rocks! Learn about Earth's deepest secrets: rocks, minerals, and fossils, how they are formed and their uses.
Into The Woods – Explore the woods to identify trees and plants. Learn about forestry and how to judge the age of a tree.
Into The Wild – Discover the wonder of nature at Scoutland. Participate in a nature project, learn about birds, snakes, & bugs!
Arrow of Light Patrol Coordinator's Guide Scoutland Adventure Camp
Outback Adventurers are Cub Scouts entering fifth grade in the Fall of 2020. They can choose to attend as a Scout/Parent team (parents accompany Scouts to all activities) or as a Patrol (1 Scout and 1 Parent/ 2-4 Scouts and 2 adults/ 5-8 Scouts and 3 adults/ 9-12 Scouts and 4 adults). This experience will include the basics of canoe safety, safeswim defense, safety afloat, Leave No Trace Awareness, setting up camp, and introductory Scout skills. Participants will cook at least three meals with food and equipment provided by Lanier Canoe Base. Scouts and adults who have passed the Scout swim test will canoe to the Canoe Base site while non-swimmers and beginning swimmers will be transported to the patrol site by boat. All equipment will be transported to the site for you, so minimal gear is required. Showers are not available at the Canoe Base site; however, port-o-potties will be available. Scouts sleep in tents they bring.
FREE TIME FOR ALL
Although the days are packed with activities, there will be FREE time for swimming, archery, BB's, fishing, and other activities. You will select free time activities after the Parents'/Leaders' meeting on the day you arrive at Camp. These will be selected on a first-come, first-serve basis based on availability. You may not be able to take advantage of all free time activities.
Fort Adventure – Climb, slide, crawl, and swing at the Cub Scout Activity Grounds, one of the BEST playgrounds around!
Volleyball – Always a popular sport! Learn the game.
Nature Hike – Hike this short trail and identify local flora and fauna.
Fishing – Take the challenge and try your luck for some great fishing. Learn the skills to land the big one. (Bring your own gear and bait. Anyone 16 or older must have a valid Georgia fishing license to fish at Lake Lanier).
Archery & BB Shooting! – Put to use those techniques and skills you have learned while having fun! Always a favorite!
Swimming – Enjoy the swimming area and dock! Swim tests will be conducted for all campers on the first day of camp.
Ultimate – A camp favorite! A fast-paced Frisbee team sport.
Compass Course – Learn the basic compass skills by navigating from one point to the next.
Leadership criteria is:
# of Scouts in Patrol
Leaders Required
# of Scouts in Patrol
Leaders Required
1 Scout
1
Parent
5 – 8 Scouts
3
Adults
2 – 4 Scouts
2
Adults
9 – 12 Scouts
4
Adults
COMMUNICATION WITH YOUR PATROL
It is up to the Patrol Coordinator to communicate with the Scouts/Parents regarding the details of your Camp Session.
Date and time of camp travel arrangements
Equipment list
Collection Health Forms
Campsite assignments, meal tickets and class location lists will be issued at check-in. Adventure schedules, patches, and t-shirts will be given out at the Leaders' meeting. This is usually held on the first night of camp.
RAIN OR SHINE
Scoutland Adventure Camp will be conducted rain or shine. Registration fee is transferable, but not refundable. All requests for transfers must be made in writing to Scoutland Cub Summer Camp Director, PO Box 399, Jefferson, GA 30549.
HEALTH & SAFETY
The camp maintains a full-time health facility. Please attach any special physical or medical needs to the participant's registration form. Any required medication must be checked in with the Health Office upon arrival to camp. All medications must be in the original container, marked clearly with the patient's name and dosage and be noted on the health form.
Everyone attending camp, both youth participants & adult leaders or parents, must bring to camp a completed Health and Medical Form #680-001 Parts A and B that can be found on the council website and in each of the Council Service Centers. Health forms will be collected at check-in on the first day of camp. This form does not have to be completed by a physician. These forms will not be returned to you so please do not submit originals. PEASE DO NOT MAIL HEALTH FORMS.
Register Early and Save!
| Pay Date | Youth Fee | Parent/Leader Fee | Sibling Fee | T-Shirt |
| --- | --- | --- | --- | --- |
| On or before June 6th | $105 | $75 | $75 | guaranteed with registration |
| After June 6th | $120 | $85 | $75 | not guaranteed with registration |
Note: Fee includes all meals, t-shirt, patch, and materials for each participant. .

GENERAL INFORMATION
All adults and youth will take a swim test as part of the check-in process. Please come prepared. If any Scout should not participate in water activities, parents should attach a letter to his/her Health and Medical Form stating reason for non-participation.
Guest meals available for visitors for $6. Money is collected at camp during check-in.
Meal tickets, campsite assignments, and activity location list will be distributed at check-in.
T-shirts, patches and schedules for overnight camps will be distributed at the Parents/Leaders meeting. This meeting is usually held on the first night of camp.
A Trading Post and Snack Shack is available to accommodate your souvenir and sweet tooth needs.
A staff member will inspect your campsite before you leave.
All vehicle or trailers must park only in designated locations and will not be allowed to park at your campsite.
No pets are allowed on camp property.
Scouts and leaders should wear the official Scout uniform when traveling to and from camp, at flag lowering, dinner, and all-camp campfires.
Scouts may wear an activity uniform (shorts and T-shirt) during the day.

So that we can provide Lanier Canoe Base to as many Scouts as possible, there are no programs for siblings, regardless of age. Siblings may participate in free time activities and eat in the dining hall. There will be a $75 charge for each sibling.
WHAT DO I NEED TO BRING TO CAMP?
Toiletries, towels, clothing for 4 days and 3 nights, extra shoes and socks, poncho/rain gear, swimsuit, sunscreen,insect repellent, water bottle, flashlight, sleeping gear, spending money ($30 recommended), Scout uniform, trash bags, hat and completed Health and Medical Form #680-001 Parts A and B.
| File Name | Description | |
| --- | --- | --- |
| Parent Leader Guide 2019 | | Download |