Scout Show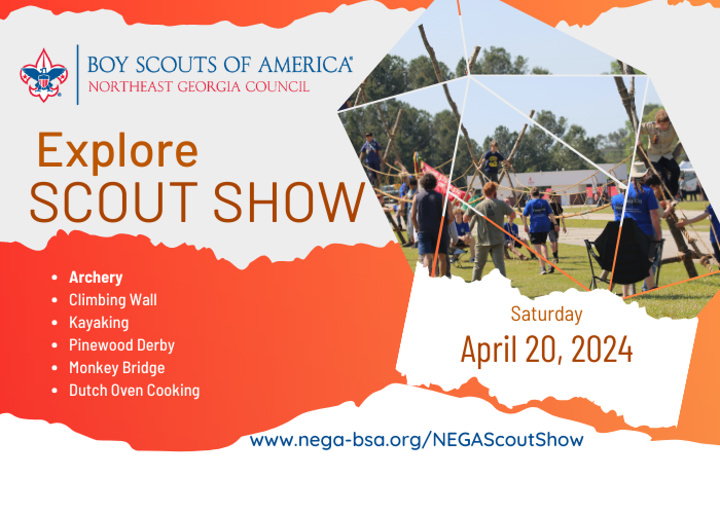 Join thousands of Scouts, Friends, Family, and the general public for a unique display of Scouting tradition, games, outdoor programs, and local community vendors & exhibitors!
The incredible event will consist of live demonstrations and exhibits, conducted by hundreds of Scouts of all ages of the Northeast Georgia Council in a live, interactive display of Scouting Skills and Outdoor Activities! Special events from other community organizations and businesses will also be on display, as well as a Scavenger Hunt.
Current Schedule:
Friday: Units and vendors may load in beginning at 6pm.
Saturday: Vendor and Unit load in 6am-8am;
Scout Show open from 9am-3pm
Sunday: Unit out by noon.
Entrance Fee:
Single Entry: $5 per Person
$10 Camp Card: Up to 4 people can enter on a single Card
Scouts and Scouters in Uniform get in for free.
Your Pack, Troop, Crew and Post can also camp at Scout Show! Camping this year is Friday & Saturday Night. Price is $10 per Scout, $5 per adult*. Both nights will have a Movie.
* Registration increases by $2, and then an additional $3 if you register after the early bird date and then the regular registration date.
Take BB and Rangemaster Training during the Scout Show Saturday April 20th from 9:00am to 2:00pm. For more information and to register please click here.