2020 Silver Beaver Recipient - William Tucker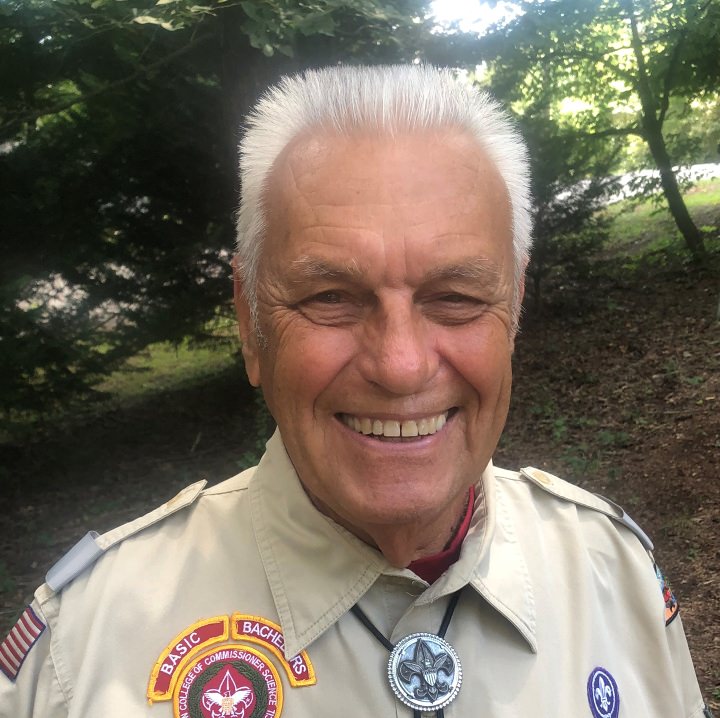 William Tucker moved to Toccoa in 1956. His family joined the First Baptist Church of Toccoa where he was introduced to the Boy Scouts of America programs. He was a First Class Boy Scout of Troop 217 and a Brotherhood Order of the Arrow member. As an Explorer he earned the God and Country Award. As a father, he guided two sons to become Eagle Scouts and continues to support Troop 77 of Toccoa.
He participated as a sponsor for the revived First Baptist Church Troop 217 Charter. He currently serves on the Troop Committee as Treasurer and participates with Scout meetings, advancement, and High Adventure trips. He particularly enjoys feeding Scouts and teaching outdoor cooking with the use of his custom cast iron cookware trailer.
The Northeast Georgia Council and Currahee District benefit from his participation in several ways. He is currently serving as a Unit Commissioner. He has raised funds for several years through the Currahee Friends of Scouting Program, serving as former Chairman, Captain, and enroller. His current focus with Friends of Scouting is the American Values fundraising initiative.
William graduated from Toccoa High School in 1962 and served in the United States Navy from 1962 to 1965. Stationed in Japan he served on board several ships conducting exercises in the far east, including Okinawa and the Philippines. He attained the rank of AMS2 Aircraft Structural Mechanic 2nd Class. After serving in the Navy he continued to serve his country through several organizations, including the American Legion, by promoting Americanism and the remembrance of Veterans' service and sacrifice. He spearheaded the remodeling of the Post 104 building for use by the Post and the community. He has made a significant impact on youth by promoting United States Flag programs and through the Boys and Girls State programs. He supports the Stephens County Historical Society and is a Charter Member of "Camp Toccoa At Currahee." In 50 years of continued service with the American Legion Post 104, he has held various positions such as Post Commander, American Legion Baseball Program Manager, and Past Chairman of the Department of Georgia Baseball Committee.
The community and other Veterans organizations such as the VFW and "LZ Friendly" have received his support as an honor guard Bugler. He was the Chairman of the Toccoa-Stephens County Korean War Commemorative Community Committee. He has served on the Selective Service Board and Appeal Board.
William is known throughout the Toccoa-Stephens County Community for his generous support with many efforts. He supports trips for the Stephens County Foundation Tugaloo Corridor Project as an example.
After working for GTE and Alltel, he retired with 34 years of service in the telephone industry. The Georgia Department of Veterans Service utilized his gifts for 16 years as a Senior Field Service Officer counseling veterans and dependents for benefits in the Clarkesville, Toccoa, and Hartwell Division.
William was honored to carry the 1996 Olympic torch through Toccoa, awarded as a "Mover and Shaker" by the Toccoa Record, and inducted into the Stephens County Hall of Fame.
The Tucker family has been led by his example of recognizing God and Country. He is a member of the First Baptist Church of Toccoa and has served as a Deacon, Sanctuary Choir Member, assisted with Youth music programs and Royal Ambassadors, and assisted with youth Sunday School classes and for 1st through 3rd grade children.
As the Father of two Eagle Scouts, William has enjoyed building a family with wife Sara Jo. They are the parents of Matt, Alvis, and Rebecca. He enjoys visiting his sister, Drucilla Fletcher, in Tennessee and spending time with his grandchildren Kal Tucker, Joe Tucker, and Huston Meeks. William is a devoted husband, brother, and father who shares his life with many of his extended family members.