2020 Silver Beaver Recipient - Larry Ayers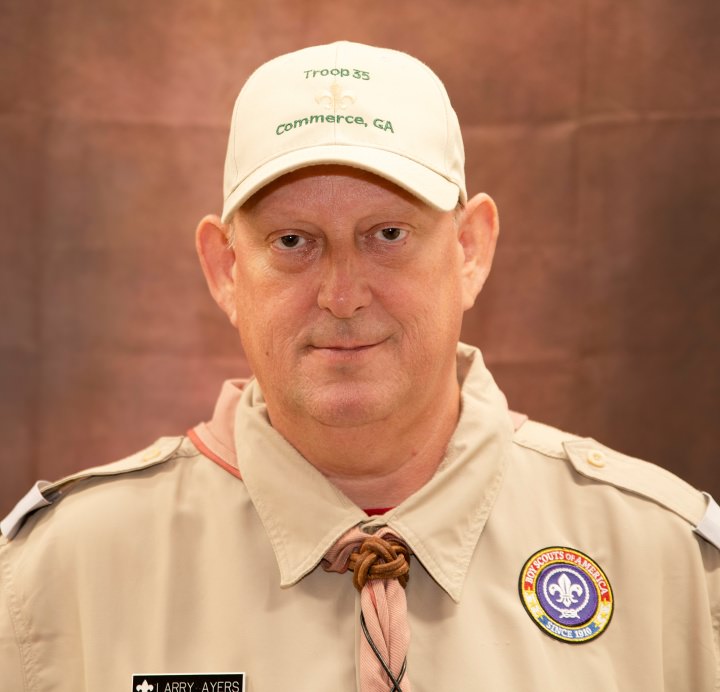 Larry Ayers' scouting career started at an early age when his mother was the scout leader of a Girl Scout Troop in Commerce, Georgia. As a younger brother, he was dragged along with the troop on its numerous outings and adventures. Larrry says that this unit did more in pioneering camping than any Boy Scout Troop that he has been involved with. They were heavily involved in hiking, swimming, camping, all the things that a young kid enjoyed back then.
When Larry was old enough to join the Cub Scout program, he wanted to be "all in" if it were to be anything like the Girl Scout Troop he had been involved in. Since his mother became his den leader, it was. He went through the Cub Scout program, earning his Arrow of Light and crossing over into Troop 35 under the wonderful leadership of Scoutmaster Charles Hardy. Under his leadership, Larry had some of the best outings ever as a youth. From attending camporees in the snow in Tennessee to hiking the Appalachian Trail without any adult supervision, these outings gave him lifetime memories and helped shape him into who he is now.
Time went by, College happened, and then Larry found himself sitting in an elementary school lunchroom signing up his nephew for the Boy Scouts of America. His nephew just so happened to be signing up for Larry's old troop, Troop 35, so he decided to attend a few of their meetings to see how the troop had changed over time. When it was determined that he had a truck, Larry was immediately recruited as a Committee Member. He thinks they were actually recruiting his truck more than him. Shortly after that, he was asked to be the Committee Chair of the unit he was in as a youth. During this time, Troop 35 had its ups and downs, going from low numbers to high numbers in youth involvement. The troop attended summer camps all over the region but primarily stayed with Camp Rainey Mountain, one of the best camps around. In the summer of 2010, Larry became the Scoutmaster of Troop 35, the very same troop that he was a youth in.
On a parallel path to Larry's involvement with Troop 35, he was asked to help start a Crew for older scouts and their sisters to give them something to participate in. He became the Crew Committee Chair and later took over the unit as the Crew Advisor.
Larry's path with District involvement started during that time as well. Shortly after taking Wood Badge, he agreed to help Mr. Dan Smith as a Unit Commissioner, not as a ticket, but just because help was needed. Larry also started helping with and conducting numerous district events from Camporees to Advance-a-ramas. He genuinely enjoyed hosting the Camporees and watching the youth have fun doing something that he had direct involvement in planning. His time as Unit Commissioner led him to helping on the Committee and eventually being asked to take over the Advancement Chair position and helping in the capacity of District Vice Chair.
Larry attended Wood Badge and was a participant in S9-101-29. After that, he was selected to help as Logistics for S9-101-32, which was a great honor. He learned more about the program as staff than from going through the course. Later, he was asked to be on the infamous Road Kill Crew and has enjoyed his time with them over the past several years. He was honored to be on staff for an NYLT course where he had the pleasure of watching four youth from Troop 35 participate in the program. What a great privilege that was.
Larry has earned numerous recognition certificates for his involvement with events in the district. He received his beads from Wood Badge and his third bead from Staffing on Wood Badge. He had the honor of being selected for the Scouter of the Year and the District Award of Merit. However, the honors that mean the most to him are the ones confirming that he helped in some little way with the youth in his Troop. He received numerous Eagle Mentor pins from scouts in his troop showing their gratitude. One of his Scouts presented him with his Father pin. What a true honor that was and a definitive yes that Larry had helped in such a way that the young man felt it was appropriate to award Larry this token of appreciation. Appreciation is the real meaning of what these pins represent -- a gift that represents the appreciation Scouts have for Larry's help in their ultimate achievement of the Eagle Rank, as well as understanding a few of life's questions along the way. To Larry Ayers, this is what the program is about: The Youth!