2020 Silver Beaver Recipient - Kevin York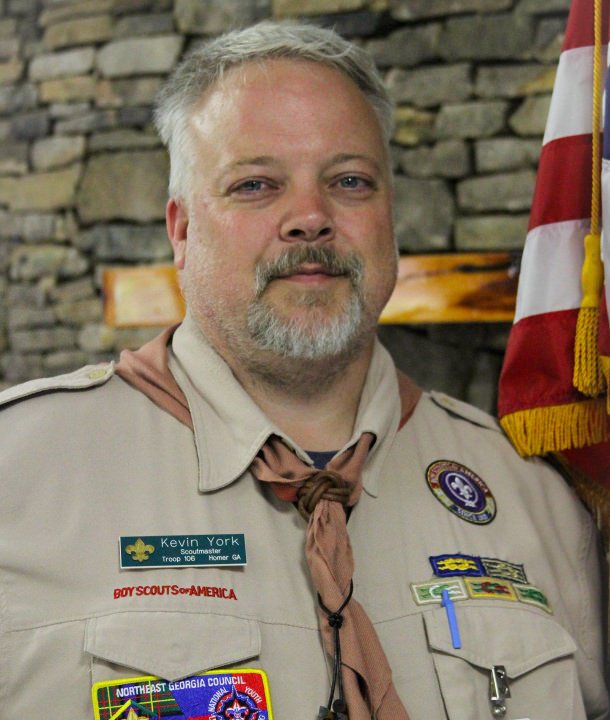 Kevin started Scouting as a youth in Troop 237 at Fort McPherson in East Point Ga, where he became a Star Scout, before the troop was forced to relocate. Although unable to finish his journey to eagle, his love for the outdoors, camping, hiking, servant leadership, and Scouting was forged.

Today, Kevin is a Good ole Bear from S9-101-32. He Currently serves as Scoutmaster for Troop 106 in Homer Ga, Currahee District Chairman, Committee Member for Pack 106, Unit Commissioner, 2020 NYLT ASM of Program, and Chairman of the Uchee Lodge.

In his 11+ years of adult Scouting, Kevin has had the privilege of serving in several Scouting positions including, Cubmaster, Assistant Cubmaster, Den Leader, Assistant Den Leader, Day Camp Director, District committee member, Adult Advisor, Fall Camporee Chair, Woodbadge Troop Guide, Professor and Dean for University of Scouting, and NYLT ASM Service, Troop Guide, and Logistics. He has earned training awards for Cub Scouts, Boy Scouts, and District, as well as the District Award of Merit and the Godsend Award.

By trade Kevin is a Network Engineer with several professional certifications. He also enjoys serving on the advisory board for his local credit union, organizing youth events at the Uchee Lodge and volunteering to help with technical projects at Homer United Methodist Church. He is a connoisseur of fine BBQ and has judged many professional competitions for the Kansas City BBQ Society. Kevin and his wife Lisa have been married for 20 years and have 3 Children, Lisa is an active member in both troops where she serves as an Assistant Scoutmaster, Committee Member and troop treasurer. His Son Wyatt and Daughter Allison are Scouts and both are currently serving as Senior Patrol Leaders in their troops.

Of all the activities and memorable moments that Scouting provides, it's the time spent with the Scouts that mean the most to Kevin. He has seen the lasting results of the program in his own children as well as countless other youth.