2020 Silver Beaver Recipient - Frank de Armas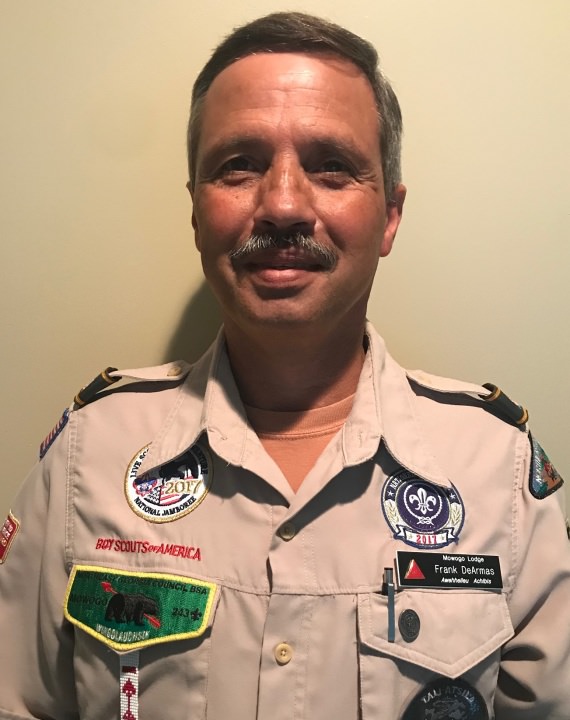 Frank was first introduced to Scouting as a youth in the early 1970s. He joined troop 282 in the Atlanta Council and enjoyed many adventures while working up through the ranks of Scouting. One such adventure was attending his first Jamboree in 1972.
As an adult Frank became active in Scouting when his youngest son joined Pack 211 in Cumming, Georgia, as a Tiger. Once Frank's son crossed over into Boy Scouts, they both became members of Troop 211. Frank has served as an Assistant Scout Master with Troop 211 since 2011. He also serves the Troop as a Medical Advisor and as a Merit Badge Counsellor for First Aid, Emergency Preparedness, and Boating. Frank has been an Instructor at numerous Advance-O-Ramas in First Aid and Emergency Preparedness. He completed the Adult Tali Atsila Course in 2010 along with numerous other Adult Training Courses over the years.
Frank was a Contingent and Medical Adviser for Troop 211 on its Philmont High Adventure Trek in 2017. He also served as a Paramedic on the Emergency Medical Response Team at the 2017 National Jamboree held at The Summit Bechtel Reserve. Frank has served for the last five years as Adviser and Supervisor for the Emergency Medical Response Team at the Explorer's Winterfest Event held in Gatlinburg, Tennessee.
As a member of the Order of the Arrow, Frank completed his Ordeal Induction in 2013 and his Brotherhood Induction in 2014. He received the Arrowman Service Award in 2015. He was the Lodge Medical Adviser for the 2015 NOAC 100th Anniversary Contingent. Frank has served as the Japeechan Chapter Adviser since 2016. He received his Vigil Honor in 2017 and continues to serve as the Lodge Medical Adviser and the Japeechen Chapter Adviser.